Every business needs to uphold its reputation and image by consistently engaging in public relations activities. One of the primary aspects of public relations is a press release. A press release is an official, written announcement given by an organization to the general audience. PR professionals will post press releases on their websites and email them to journalists in an attempt to get acquired media attention.
Press releases can potentially be effective for businesses and brands that are obliged to engage the public through the media. They update the public about a business's newest initiatives, especially those that will affect the business and its customer base.
It's important to understand that journalists considerably prefer announcements that are relevant to their readers. For example, business journalists would search for news regarding business mergers, while customer-centered media greatly emphasizes articles about the most recent product releases.
Hence, organizations must make sure that their updates and announcements are truly newsworthy and not merely routine events because the media is the one that picks up a press release and transforms it into a story. Here you can discover several examples of press releases for you to use as guidance, whether you need them to announce your new product launch, a recent acquisition, to promote an upcoming event, or several other usages.
Press Release for a Product Launch
One of the most common reasons for crafting a press release is to announce the official launch of a new product. However, in most circumstances, just launching a new product is not big enough to make this a noteworthy story. Before making any pitches, evaluate if the product deserves to be considered news.
Does it provide something unique from what is already available in the market? You're unlikely to get coverage if a product is new to your business but not to the market. So, consider what makes this product noteworthy compared to the others, and then start your opening statement with that concept.
Example: "Apple Watch: The ultimate combination of design, function, and value": A press release from Apple emphasizing the core values its product upholds.
Press Release for Promoting Events
Organizers generally send out press releases weeks before an event, not only to create awareness regarding the scheduled event but also to encourage people to attend. It might be critically important for public events, in which organizers must earn a minimum amount of ticket sales to break even.
There are several methods for addressing journalists, so consider exactly what you want the journalist to accomplish. Do you want them to spread the word about your event among their audience, and do you want to personally ask them to attend? Be mindful of your objective and focus on what you want journalists to do after reading the press release.
Example: "Amazon's Black Friday Deals Week is Almost Here – More Deals of the Day and Deeper Discounts Than Ever Before on Buzzworthy Holiday Gifts Across Every Department": A press release by Amazon provides a list of links to find the discounts mentioned.
Press Release for Partnerships
Making an official announcement is also necessary when establishing a big new partnership. These are highly well-thought-out business moves that will strengthen a brand's reputation in the marketplace.
It is important to highlight in partnership announcements the industry, market sector, or service that the two or more organizations will work together on. There are three important aspects to include in your press release:
The causes for this alliance – and the synergy between the two companies in concern
The positive outcomes of this partnership for the involved businesses and their customers
The specific initiatives that this collaboration will lead to
Example: "Mastercard launches partnership with HSBC to promote more sustainable and inclusive communities": This press release highlights the partnership's initial priorities in short form.
Press Release for Crisis Communications
Today, brands and enterprises must have strong crisis communication plans in place to react to negative information quickly and effectively. Overlooking the dangers of leaving a crisis unaddressed and only expecting it would go away may seriously harm your company's reputation.
It is necessary to confront and resolve issues immediately using press releases that will maintain the confidence and support of your organization's key stakeholders. Press releases for crisis communications will be responsive quickly to any concerns that occur, displaying the commitment to transparency, responsibility, and the integrity of your brand.
Example: One of the biggest retailers in the US, Target, faced a data breach in 2014 that created chaos among its consumers. So, this company disseminated press releases- "Target Provides Update on Data Breach and Financial Performance"- updating its customers about the steps to handle the process and their ongoing investigation.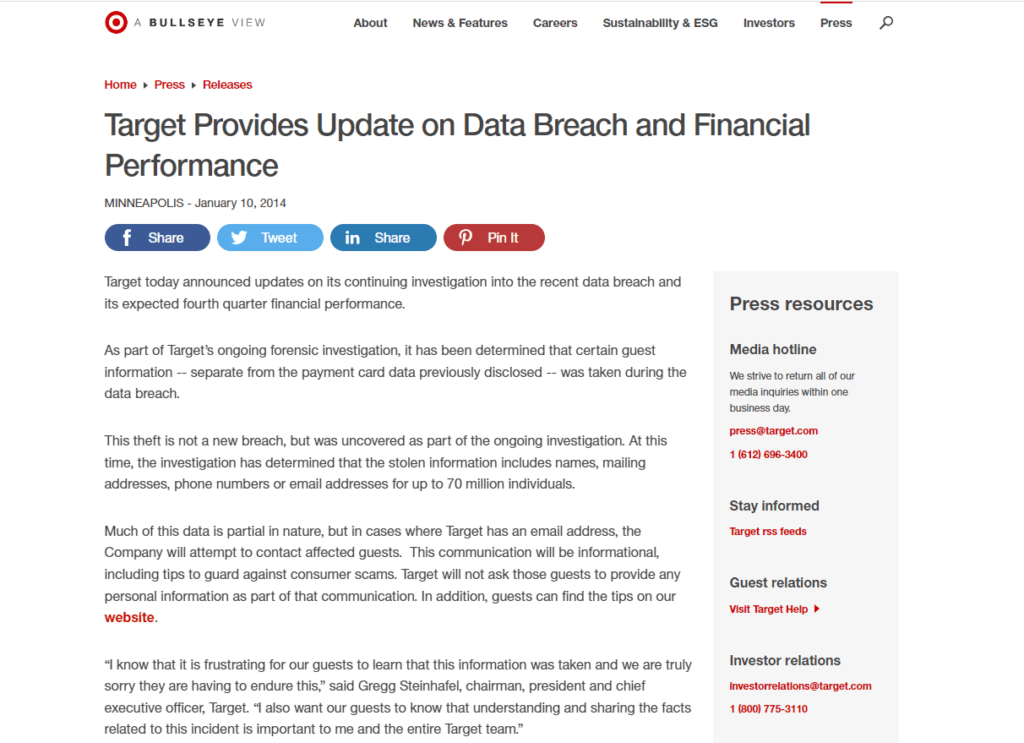 Press Release for Social Causes
Participating in social causes and exhibiting community participation are effective ways for your brand or corporation to demonstrate its beliefs. One successful strategy is to write press releases that showcase your active involvement in humanitarian endeavors and programs that support those who need assistance.
By highlighting these initiatives, you may encourage people to support your effort while also demonstrating your dedication to having a beneficial influence. These news releases are an effective tool for spreading the word about your brand's efforts in social responsibility, building goodwill and strengthening your reputation as a socially responsible company.
Example: "Ogilvy", – one of the world's major marketing and advertising companies, indicates its sympathy with small businesses in the US afflicted by economic hardships amid the COVID-19 outbreak.
Press Release to Announce Awards and Recognitions
For businesses, receiving an award is an acknowledgement of pride. Accolades honor the brilliance of a brand. Making people aware of an award you've just received is an excellent way to promote your business.
If you wish to share such news (which we strongly advise you to do), your press release should include the following details.
What this recognition signifies in terms of your company's values
Why you qualified for the award
The commitments you'll make to respect receiving such an honor
Example: "SAP Announces Winners of the Seventh Annual SAP Innovation Awards" by SAP. SAP took the effort to design its own awards and promote media coverage on the basis of the outcomes.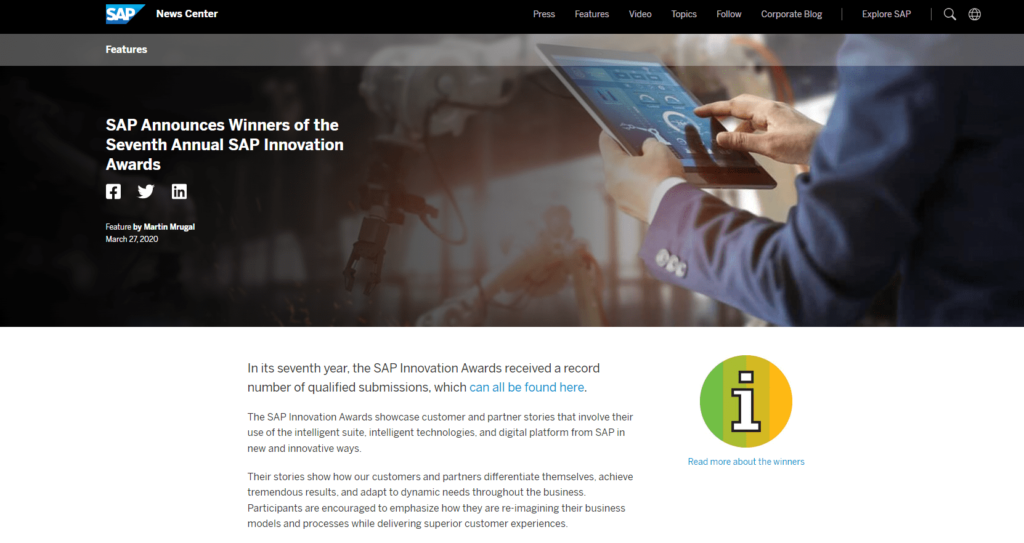 Press Release for the Product Updates
Upgrades of software and solutions are common, and sometimes the changes are so significant that a press release is essential. Product update PR should include significant information about the new and enhanced features as well as the benefits that users will gain, just as product launches do.
Example: "Oracle Releases Java 17". Java 17 is now available after a significant upgrade from software giant Oracle. The announcement emphasizes the new version's excellence, especially regarding software development. It demonstrates that the press release seems well aware of its target audience, IT professionals who read tech-related magazines.
Press Release for Mergers and Acquisitions
Mergers and acquisitions comprise important business transactions that need public announcements through press releases. These are meticulously created to ensure truth and transparency, as rivals, industry participants, and market analysts will usually pay attention to them.
Organizations can have the opportunity to decide whether to disclose the financial aspects of their M&A transactions in part or whole. Most frequently include declarations from organizations involved in the collaboration to indicate that all parties acknowledge and support the corporate move.
Further, this kind of statement describes how a merger and acquisition could influence corporate operations while optimizing the products and services offered to the market.
Example: "Salesforce completes acquisition of Tableau" by Tableau. This release explains how the expertise of both companies complement each other and how the acquisition would satisfy all consumer demands.
Press Release for the New Leader
Announcing a new leader is an opportunity to get to know your organization better. When a big organization appoints a new head, the news often gets covered by the business press.
This new leader who collaborates with you and their professional expertise demonstrates the standards of your organization or business at work. Additionally, it will help your clients and audience understand who they are, what they are capable of, and how they can assist them.
Here is the information to put in your press release whenever you are interested in sharing this type of communication:
Assigned person's journey
Responsibilities and goals of the person in their new position
The reason this person is the best fit for this role
This press release is concise and to the point but still contains significant comments, graphics such as photos, and interesting facts about them.
Example: "McDonald's names new chief people officer" by McDonald's. This news release outlines what factors led to the role as well as the steps that were already taken to accomplish the goals of this new leadership position.
Press Release for New Business
When it comes to promotional activities, broadcasting the newest business may be quite challenging. Press releases, however, may simplify this scenario. These news releases may include details not only about the business itself and its products but also about the founders, their beliefs, and what inspired them to start a new business.
A well-written press release for new businesses may bring the organization closer to its customers' demands. This PR campaign highlights all of the new platform's features and promises to audiences that it represents the future aspects.
Example: "Apple unveils Apple TV+, the new home for the world's most creative storytellers". This press release comprised all the new platform's features and assures its target audience that it would be the future of television.
Conclusion
These 10 best press release examples mentioned above demonstrate effective PR approaches or methods for crafting engaging press releases. Each example gives helpful insights into what makes a press release worthwhile, from simple words and attention-grabbing headlines to customer-centric narrative and strategic leadership.
You can come up with successful press releases by using any of these tactics and adapting them to your business's specific endeavors and demographics. Connect with us at PRIMEX MEDIA SERVICES; we redefine PR with our effective press release strategies and expert PR professionals that will help you create compelling stories, engage media outlets, and dominate your industry.